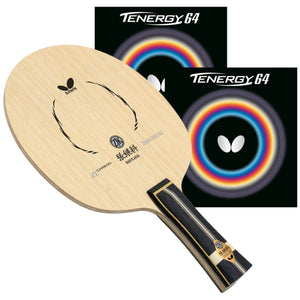 Details
Strong & Lightweight Racket for Powerful Attacks At All Distances
Zhang Jike ZLC

 

FL Blade
Tenergy 64

 

2.1 Red Rubber
Tenergy 64

 

2.1 Black Rubber
All pro-line rackets are assembled.
flexibility and a softer touch, enabling powerful and precise attacking strokes from mid distance.
Spring Sponge Technology is produced by the unique format of air bubbles within the sponge and the thin pimples of the highly flexible surface, enable dynamic topspin play with heavy rotation.
With the most speed among the Tenergy rubbers, Tenergy 64 is the ultimate attacking rubber.
Within the Tenergy Family of rubbers, all styles of play can benefit from this new technology
Highly Balanced Model with ZL-Carbon Style: Attack | Reaction: 11.7 | Vibration: 10.8
A model with ZL-Carbon; powerful attack as well as the soft feeling are major features, high reaction force and flexibility is possible. The balanced play between attack and defense is a particular characteristic.





Class: OFF
Weight: ~87g
Blade Thickness: 5.5
Blade Size: 157x150mm
FL Handle Size: 100x25mm
ST Handle Size: 100x28mm
Made in Japan