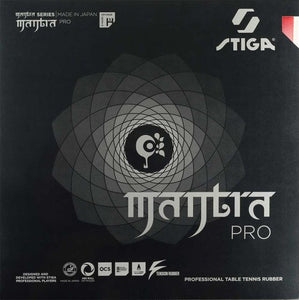 53-degree sponge hardness provides more feeling and control in every stroke
Mantra Pro HX = Extra Hard – The perfect balance between extremely high speed and control
A very fast rubber with a unique geometry for offensive players
Long-term durability due to the special combination of natural and synthetic rubber
Oxygen Capsule System technology provides extremely high speed through steady, even strokes
Developed in collaboration with leading Chinese players and Japanese precision
Made in Japan, designed in Sweden
Mantra Pro HX has a unique geometry that has been specially developed for the aggressive player, who seeks a lot of power and spin. The rubber is adapted to suit a wide range of table tennis players and playing styles, from young talents to professional players who expect a world-class rubber of uncompromising quality. Suitable for technically skilled players with a modern, highly offensive playing style, the Mantra Pro HX is engineered with Japanese precision and distinction. It has also been designed and tested in collaboration with leading Chinese players. The result: a table tennis rubber for players who are keen to attack, play with a lot of power and seek a rubber that delivers in line with their expectations. The table tennis rubber is also equipped with OCS (Oxygen Capsule System) technology that, thanks to the enlarged sponge pores, generates a higher arc and catapult effect during loop play. It also contributes to a crisp, clear sound and more feeling in every stroke, as the contact between the rubber and the blade has been reinforced. Mantra Pro HX has a very hard, 53-degree sponge, which offers players an incredible amount of speed, power and precision, with a lot of spin and the possibility of quick, explosive finishes. Mantra Pro HX places high demands on the player's technique to maximise the potential of the rubber. The rubber is also optimised for the ABS ball, and thanks to the special combination of natural and synthetic rubber, it is considerably more durable than previous generations of table tennis rubbers.