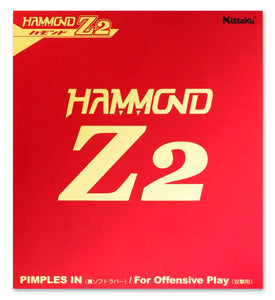 The Nittaku Hammond Z2 rubber has a fantastic "bulkhead" sponge, creating max power while reducing energy loss, and strengthening repulsive force.
The natural rich topsheet, which has a high ratio of natural rubber and a high density of rubber sheets, is great because it does not fall off even if it is taken thinly. Take control of the match with the ability to counter your opponent's rotation and pierce the opponent's court deeply even if you are away from the table!
Nittaku Hammond Z2 provides a superior grab feeling, and upgrades the original speed of the Hammond Pro rubber.
The Hammond series, adopted by many top athletes, has powered up for the new era with Hammond Z2!