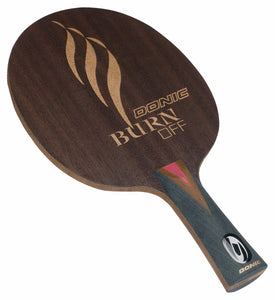 A stiff blade usually offers less control, but this does not happen with the Donic Burn OFF. For a fast blade at 85 - 90 grams it is relatively light and has an outstanding sweet spot. It won't be top-heavy even with heavy and hard rubbers.

DONIC Burn Series
"Thermic Burn Technology" is applied! Thermal treatment of the veneers results in extremely high stability, similar to features of high-quality tropical woods. The blades are exposed to a temperature of 200 degrees centigrade for twenty-four hours. This process hardens the wood and removes any humidity. The resulting playing characteristics of these blades are unique.

Donic Burn Series, the new blade generation for modern table tennis!