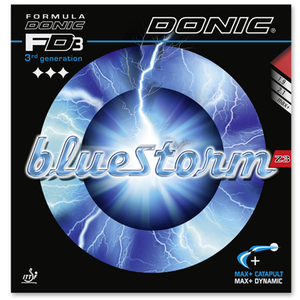 Donic Bluestorm Z3: A THUNDERBOLT!
Bluestorm Z3 with its large pored 42.5° sponge is considerably softer. This makes a difference. One not only feels it but also hears it. Lovers of freshly glued rubbers will delight in the sound. An attacking stroke with Bluestorm Z3 sounds like the crash of thunder, yet the topspin player remains in full control.

Feel the clap of thunder! 

BLUESTORM: A comprehensively thinner top surface rubber, subjected to high tension, allows space for a thicker sponge - generating extra power and speed. The DONIC Bluestorm Series offers noticeably greater acceleration while retaining its outstanding spin and speed characteristics, making the latest trend. The thinnest sponge is 1.9 mm, middle sponge thickness is 2.1 mm - and the thickest variation is called max+, because this sponge is even thicker than previous max versions.

Bluestorm is available in three versions: Z1, Z2, Z3. Select your own Bluestorm!