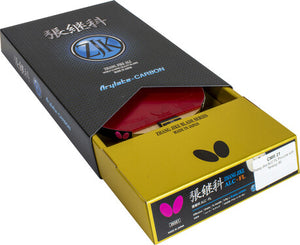 Great Power and Feel With Balaned Speed & Spin
• Recommended For World Class Play
• Pro-Line Series
Butterfly's enormously popular Arylate/Carbon technology. The power of Carbon meets the vibration reducing properties of Arylate. Tenergy 80 offers the perfect balance of speed and spin in the Tenergy Series. The Spring Sponge technology adds additional speed and spin to each shot and offers tremendous feel.
• Blade:  Zhang Jike ALC 
5-Ply Wood + 2 Arylate/Carbon (ALC)
Reaction: 118
Vibration: 103
Handle: Flared - Concave At The Center - The Most Popular Style
• Rubber: Tenergyn 80 Sponge Thickness 2.1mm
Speed Rating: 132.5
Spin Rating: 112.5
Hardness: 36
• International Table Tennis Federation Approved
• All Proline Rackets Come Fully Assembled
PLEASE NOTE: Ultimately, most players find a blade that best suits their own individual and unique style of play and will use that blade for an extended period of time. If properly cared for, the blade will last years. However, the rubber will wear out over time and need to be replaced. When that day comes, DO NOT THROW THIS RACKET AWAY! The glue that is used to assemble Butterfly Proline rackets will allow you to easily remove the old rubber. You can have the rubber professionally installed or you can even do it yourself! Replace with the same rubber or upgrade to one that offers more speed, or more spin, or both!