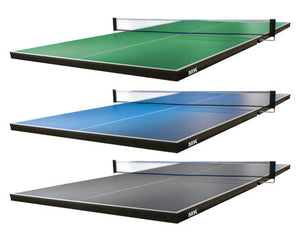 Details
Assembly required
FREE SHIPPING with liftgate delivery to contiguous US locations.
Martin Kilpatrick's PT (pool table) conversion tops are manufactured in the same factory as Butterfly tables. The 3/4 inch wood top is supported by a 1 ½ inch metal rail which is screwed to the underside of the table. The tops are connectable via dove-tail style brackets mounted on each half. This unique feature also acts as the net bracket. Due to this, there is no net adjustment beneath the table. Fits most pool tables.
• New design showing MK logo
• 3/4" German crafted conversion top
• 1.5" metal rail offers added stability
• Unique net assembly allows for use on 5' wide pool tables
• Surface connectors keeps tops attached during the play position
• Includes net set
• Weight: 150lbs
Table Delivery Instructions
Shipping Method and Duration
Tables are delivered via freight companies like R&L and Yellow Freight. All tables are delivered free of charge within the contiguous US and include a free liftgate service to the curb of your delivery location. The shipping duration is displayed on the shopping cart and is 3-6 business days on most orders, depending on the table model and location. Deliveries outside the contiguous US may carry an additional cost.
Delivery Appointment
When the table reaches the terminal nearest to you, the shipping company will call you, and you will be given a phone number to set up an appointment. They deliver during weekdays and normally require a four-hour shipping window for the appointment (for example 8:00 am - 12:00 pm or 2:00 pm to 6:00 pm).
Deliveries are made Monday through Friday only. There are no deliveries on the weekend or on holidays.
If you miss your scheduled delivery time, you may be responsible for any additional charges for redelivery and/or storage fees established by the freight company. So please make sure you are at the delivery location at the time of delivery.
Cancellation
Although we offer free shipping to our customers, there are still considerable costs involved. If a table order is canceled after being shipped, you will be responsible for any fees incurred. Of course, if cancellation is due to damage (e.g. you refuse a damaged table) you will be entitled to a full refund.
Changing Shipping Address
Additional charges may apply if the shipping destination is changed after the table has left the warehouse.
How to Accept a Table Delivery
We include free liftgate delivery with all our full-sized tables. This allows the driver to get the table off the end of the truck without any assistance.
Before signing the delivery receipt it is very important to inspect your freight!
Shipping companies do their best to ensure that your table arrives on time and without any damage. However, sometimes damage can occur during transit. Please do not sign the driver's delivery receipt until you have inspected your freight. Signing may absolve the shipping company of any damage responsibility, making it harder to have a damage claim honored.
You have a right to look at the packaging for holes, smashed areas, and other indications of table damage. Your table is sent to you strapped onto a pallet for added protection. If the table is not strapped, please pay extra attention to the damage.
If your table arrives damaged, it is very important to refuse the table and write "REFUSED/DAMAGED" on the delivery receipt so we can send you another one. Do not accept a table delivery if the package shows signs of damage.
Please make sure the driver clearly writes the problem on the delivery receipt, and please contact us within 5 days to send you another table.
If everything appears to be alright, then please sign and accept the table.
If the shipping company sent you the wrong table, please do not unpack/assemble it and let us know immediately.
For any concealed table damage found after the delivery please contact us within 5 days of delivery to ensure proper credit/part replacements. If you find your table has concealed damage please do not assemble the table. You are required to keep the original pallet and packaging until the damage issue is resolved. If the table needs to be returned, the original pallet and packaging will be required for the table to be picked up.
Additional Services
Our free shipping includes delivery to the curb of your home or a loading dock. Drivers cannot help move the table from the curb into your driveway, garage, or home unless this service has been quoted and paid for ahead of time.
Inside Delivery: Delivery from the curb to the first entrance (~$100)
This service is typically requested by customers who have a driveway and are unable to transport the table themselves from the curb to their garage or home. This service includes getting the table off the end of the truck and transporting it to the first enclosure such as a garage, carport, or front door.