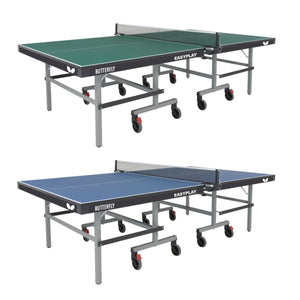 Details
Assembly required
FREE SHIPPING with liftgate delivery to contiguous US locations.
The Butterfly Easifold 19 Rollaway table tennis table, Butterfly's newest rollaway addition, is the ideal choice for those looking for an excellent table at an affordable price. The Butterfly Easifold 19 Rollaway requires minimal assembly time and has a 3-year warranty, providing countless hours of fun without the hassle. The 19mm top provides excellent bounce and playability and is available in vibrant colors of blue or green. It is protected by a strong steel frame and attractive magenta corner pieces that perfectly accentuate the top color, and a level playing surface is guaranteed with height adjusters on each leg. The Butterfly Easifold 19 Rollaway table divides into two equal halves, each half consisting of 2 legs that fold into the top for easy movement and storage. Each half has four independent wheels, one of which has a brake to secure the table during play or storage. A double locking mechanism prevents the table from opening or closing accidentally. Another popular attribute of the Easifold 19 Rollaway table is the playback feature where one half can be set in the storage position, providing the opportunity for extra practice when a partner is not available. A Butterfly clip net and post set is provided, which includes a rubber cover on the clamp to avoid damage to the center corners of the table. Enjoy a great table at a great price – The Butterfly Easifold 19 Rollaway.
The ideal table for those looking for an excellent table at an affordable price.
Assembly time of 10-15 minutes
3 year warranty
9' long x 5' wide & 2'6" high
Storage Dimensions: 5'3" high x 5' wide x 25" deep
19 mm top available in blue and green
Butterfly clip net and post set included
Playback feature for single player practice
Locking wheels for safe and easy rollaway
Available in blue or green
About Butterfly—
Hikosuke Tamasu founded Tamasu Co., Ltd. in Yanai City, Japan in 1950. A renowned international player for Japan, Tamasu fulfilled his dream when he made his hobby his profession. At that time, he could not imagine Butterfly would become the leading brand worldwide. Creativity, durability, and profound technical knowledge meant success. Over and over again he looked for new possibilities to optimize techniques using innovative playing materials. Tamasu realized each player has different strengths and weaknesses. By offering individualized equipment, Tamasu wanted to help players emphasize their unique style. Since 1983, Butterfly has a training and research center in Tokyo where highly qualified scientists cooperate with world class players and coaches to develop equipment technology. Butterfly rubbers and blades are used by more than half of the participants at World and European Championships.
Table Delivery Instructions
Shipping Method and Duration
Tables are delivered via freight companies like R&L and Yellow Freight. All tables are delivered free of charge within the contiguous US and include a free liftgate service to the curb of your delivery location. The shipping duration is displayed on the shopping cart and is 3-6 business days on most orders, depending on the table model and location. Deliveries outside the contiguous US may carry an additional cost.
Delivery Appointment
When the table reaches the terminal nearest to you, the shipping company will call you, and you will be given a phone number to set up an appointment. They deliver during weekdays and normally require a four-hour shipping window for the appointment (for example 8:00 am - 12:00 pm or 2:00 pm to 6:00 pm).
Deliveries are made Monday through Friday only. There are no deliveries on the weekend or on holidays.
If you miss your scheduled delivery time, you may be responsible for any additional charges for redelivery and/or storage fees established by the freight company. So please make sure you are at the delivery location at the time of delivery.
Cancellation
Although we offer free shipping to our customers, there are still considerable costs involved. If a table order is canceled after being shipped, you will be responsible for any fees incurred. Of course, if cancellation is due to damage (e.g. you refuse a damaged table) you will be entitled to a full refund.
Changing Shipping Address
Additional charges may apply if the shipping destination is changed after the table has left the warehouse.
How to Accept a Table Delivery
We include free liftgate delivery with all our full-sized tables. This allows the driver to get the table off the end of the truck without any assistance.
Before signing the delivery receipt it is very important to inspect your freight!
Shipping companies do their best to ensure that your table arrives on time and without any damage. However, sometimes damage can occur during transit. Please do not sign the driver's delivery receipt until you have inspected your freight. Signing may absolve the shipping company of any damage responsibility, making it harder to have a damage claim honored.
You have a right to look at the packaging for holes, smashed areas, and other indications of table damage. Your table is sent to you strapped onto a pallet for added protection. If the table is not strapped, please pay extra attention to the damage.
If your table arrives damaged, it is very important to refuse the table and write "REFUSED/DAMAGED" on the delivery receipt so we can send you another one. Do not accept a table delivery if the package shows signs of damage.
Please make sure the driver clearly writes the problem on the delivery receipt, and please contact us within 5 days to send you another table.
If everything appears to be alright, then please sign and accept the table.
If the shipping company sent you the wrong table, please do not unpack/assemble it and let us know immediately.
For any concealed table damage found after the delivery please contact us within 5 days of delivery to ensure proper credit/part replacements. If you find your table has concealed damage please do not assemble the table. You are required to keep the original pallet and packaging until the damage issue is resolved. If the table needs to be returned, the original pallet and packaging will be required for the table to be picked up.
Additional Services
Our free shipping includes delivery to the curb of your home or a loading dock. Drivers cannot help move the table from the curb into your driveway, garage, or home unless this service has been quoted and paid for ahead of time.
Inside Delivery: Delivery from the curb to the first entrance (~$100)
This service is typically requested by customers who have a driveway and are unable to transport the table themselves from the curb to their garage or home. This service includes getting the table off the end of the truck and transporting it to the first enclosure such as a garage, carport, or front door.