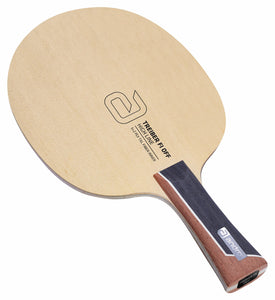 If you want to keep up with modern table tennis, a synthetic fiber-reinforced blade is an absolute must-have.

The immediate passing of the impulse to the hitting hand, the direct transfer of the impact energy to the ball, as well as the wide and open tempo scale make this blade construction indispensable in modern times.

Andro TREIBER offers all these advantages, along with the possibility to play the respective model in either the inner or the outer version.

Your Choice: Andro TREIBER offers one blade each with KVL Carbon and one with TXL Fiber selectable as Inner or Outer version.

TXL Fiber positioned around the core veneer; outer ply made of Hinoki wood. The TXL Fiber provides a well-dosed hardness in the background, while the Hinoki outer ply forms the character.

The remarkably high ball throw defnitely makes this wood a highlight and provides a lot of fun in the game.

Last but not least, topspins impress with an aggressive and dangerous curve.

Our recommendation for versatile offensive players who do not want to commit to a tempo.
Material: Wood + Composite