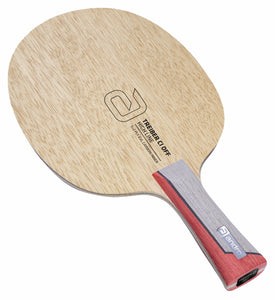 If you want to keep up with modern table tennis, a synthetic fiber-reinforced blade is an absolute must-have. The immediate passing of the impulse to the hitting hand, the direct transfer ofthe impact energy to the ball, as well as the wide and open tempo scale make this blade construction indispensable in modern times.

Andro TREIBER offers all these advantages, along with the possibility to play the respective model in either the inner or the outer version.

Your Choice: Andro TREIBER offers one blade each with KVL Carbon and one with TXL Fiber selectable as Inner or Outer version.

KVL Carbon positioned around the core for a better ball feel.

The Andro Treiber CI OFF is designed to support your topspins with even more quality and control.

Passive actions gain confdence as the ball impulse seems to stay slightly longer in the racket.

Do you put all your trust in a punchy, modern topspin game? Then better use Andro Treiber CI OFF to bring your topspins onto a totally new level!
Material: Wood + Composite