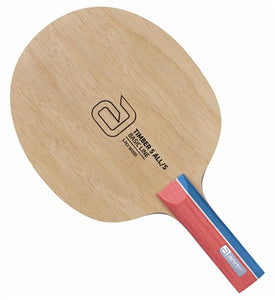 With Andro's TIMBER Line, they rely on the pure performance of natural wood and veneer structures. In the layer structure, they differentiate in 5 or 7 layers. With TIMBER 5, the ideal entry into the competition area is possible, with moderate speed but high control rates thanks to maximum ball feeling.

Andro Timber 5 ALL/S offers controlled strokes forward mixed with variable moves.

A combination of Kiri, Acacia, and Limba (outside) makes you feel the ball directly. Get direct feedback and feel immediately, if you managed to hit the ball clean.

Finely dosed speed and incredible ball feel make it easy to play high-quality topspins.

Is your game is still in training? Are you already an expert, but your game is not just high-speed table tennis? Andro Timber 5 ALL/S provides your game the necessary update.