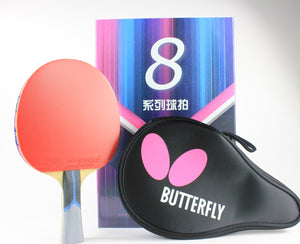 Details
The Butterfly 802 shakehand racket comes in an attractively designed gift box that is heavy duty and closes with magnetic tabs
Assembled with Butterfly Wakaba 2.1 Black Rubber on the forehand and Flextra 2.1 Red Rubber on the backhand
The Wakaba rubber will produce a little less spin and speed, but offer a bit more control.
The Flextra rubber has great all-round characteristics, perfecting the balance of speed and spin for the advanced recreational player.
The racket is a 5-ply wood construction with two reinforcing fibers made of Arylate/Carbon fiber which makes the racket faster, reduces vibration at impact and enlarges the sweet spot.
Also includes a Butterfly Full Case which is useful to store and protect your racket.