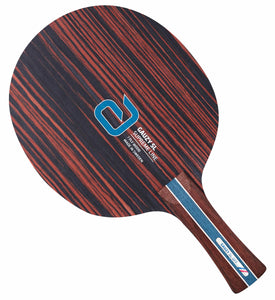 Seven layers of fine wood harmonize perfectly with each other in the Andro Gauzy SL OFF blade.

Soulful core, hard outer veneers made of Ebony.

The direct ball hitting point enables effective and powerful topspins. In the modern and fast game close to the table you save time and put your opponent under pressure.

The wood by Simon Gauzy, made by and for fine-spirited and detail-obsessed characters.
Simon Gauzy, a new andro brand ambassador, has established himself as an outstanding player in European top table tennis. The 24-year-old Vice European Champion 2016 in Men's Singles was already ranked as number 8 in the ITTF World Ranking and stands out at the table with his feel for the ball, diligence, and creativity. Simon works with an eye for detail and allows no compromises when it comes to his material. The GAUZY Blade Line was developed together with France's number 1 and bears his signature from the handle shape to the veneer selection: modern yet traditional.
• Five layers of wood and two layers of thin, high-quality KVL Carbon.
• KVL Carbon serves to stabilize and reduce vibrations. The typical accentuated feel of an offensive wood Made in Sweden is retained.
• Dominant high-quality veneer composition.