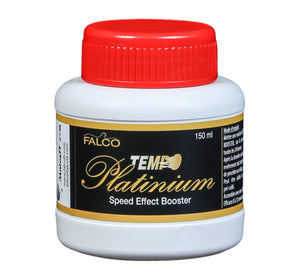 Falco Tempo Platinium Booster produces a more powerful effect than Falco Tempo Long Booster and Falco Tempo Booster. 
Effective for: 8-12 weeks
The booster is best suited for:
• mid-distance players seeking better ball feeling
• any player using a hard sponge
Application tips:
• You may apply 1-3 layers of the booster before gluing.
• Wait 24 hours for each layer to dry completely before applying the next one.
• After applying the last layer of the booster, wait until the sponge becomes completely dry before applying glue.
• Most rubber sheets will dome as the booster dries.
• Applying more than 3 layers may cause the rubber sheet to roll onto itself, making it difficult to glue.