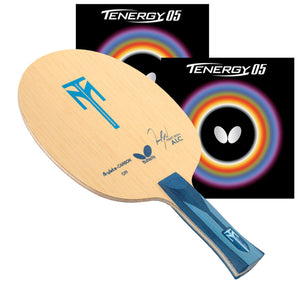 Details
The exact blade and rubber combination used by one of the best players in North America, Kanak Jha

 f

rom USA!
More

 

world-class players choose Butterfly blades and rubbers

 

than any other brand.
All Pro-Line rackets come pre-assembled at no extra charge.
Timo Boll ALC

 

Blade
Tenergy 05

 

2.1 Red Rubber
Tenergy 05

 

2.1 Black Rubber
Timo Boll's Model Style: Attack | Reaction: 11.8 | Vibration: 10.3
The blade of choice of Butterfly's Timo Boll.
Alongside Butterfly's technicians, Timo helped design this ALC blade which offers a touch more speed than his previous model, yet allows for the heavy topspin strokes he is known for.
Offers the maximum blend of speed, heavy spin & control.





Class:

 

OFF
Plies:

 

5W+2AC
Weight:

 

~86g
Blade Thickness:

 

5.7
Blade Size:

 

157x150mm
FL Handle Size:

 

100x24mm
ST Handle Size:

 

100x22mm
Made in Japan
TENERGY 05 has a unique feeling using a combination of Spring Sponge technology, High Tension rubber and a tacky surface. It is excellent for imparting a great deal of spin on the ball. 05 in the name was adopted from Pimples Code No. 5. Tenergy 05 enables a full range of topspin play at or away from the table. It keeps its explosive power throughout the life of the rubber without the use of speed glue or boosting. Tenergy 05 is very popular among world-class table tennis players. 
Please use Free Chack II when you apply Tenergy to a blade.
Tenergy is a highly delicate product. We recommend you protect the rubber surface with rubber protective film after a match or practice.
Tenergy Family Rubbers, realize your more!

SPECIFICATIONS:
 
Class:

 

High-Tension Pimples-in
Surface:

 

Inverted
Speed:

 

13.0
Spin:

 

11.5
Density:

 

36
Made in Japan