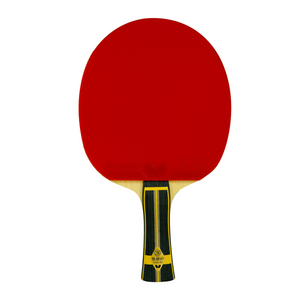 Featuring three of Butterfly's technological breakthroughs, the Zhang Jike Super ZLC Pro-Line is perhaps the most high-tech racket on the market. The Super Zylon Carbon layers add strength and stability to the blade and produce a massive sweet spot for highly responsive and incredibly consistent play.

Bryce HighSpeed is our fastest rubber and combines Butterfly's High Tension and Micro Layer technologies. High Tension rubbers have tension built directly into the rubber itself. The added tension increases the ball rebound by up to 18% compared to non-High Tension rubbers.

Micro Layer technology has produced an unbelievably thin top sheet. This allows more of the ball to come in contact with the rubber surface, thus, allowing you to impart even more spin than before.

The Zhang Jike Super ZLC Pro-Line is built for the aggressive attacker. Speed. Spin. And more speed and spin!
Zhang Jike Super ZLC

 

FL Blade
Bryce High Speed

 

2.1 Red Rubber
Bryce High Speed

 

2.1 Black Rubber
All pro-line rackets are assembled.