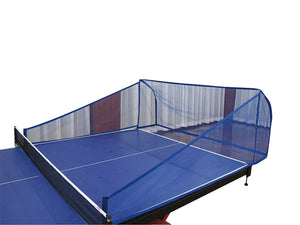 This Practice Partner Table Tennis Ball Collection Net #1 is the perfect complement to your Practice Partner Table Tennis Robot. Also compatible with other table top ball shooters that don't include a net.
Or use it for multi-ball drills or to practice your serves. Keeps balls off the floor so you're ready to go again much faster. Saves your back! Makes practicing your table tennis shots easier and more fun. Ideal for home, club, or gym.
With a rugged frame and quality netting, it reliably captures your returns. Clamps onto the corners of your table for a secure, yet fast, fit. Side nets catch stray balls and provide maximum coverage. Quick and easy to attach to or remove from your table. When removed, parts are compact to store in a small space.
Do yourself, and your back, a favor—get this net and make your practice more efficient and fun! Trust the #1 brand in table tennis—Butterfly.